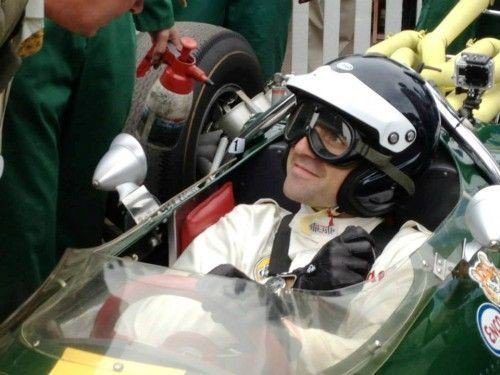 Carol is back to Goodwood again ! et comme l'an passé, nous laissons sa contribution en anglais. Notre façon de rendre hommage aux britanniques pour leur respect du patrimoine, notamment roulant et volant. Nous nous excusons auprès de nos lecteurs uniquement francophones, mais les assurons d'une très prochaine note sur Goodwood en français…
Classic COURSES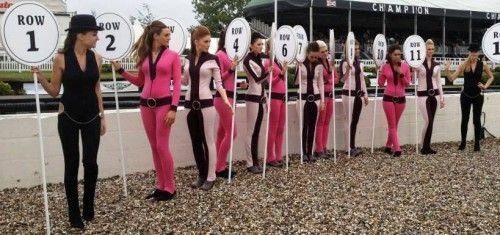 S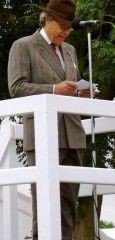 ixteen years ago in 1998,  The Earl of March re-opened the Circuit of Goodwood to historic automobile racing. Originally in operation from 1948 to 1966, – the circuit now hosts the Goodwood Revival race; a three day festival that honors historic racing and pays tribute to those who have made racing what it has become today. Thanks to the initiative of the Earl of March and his race organization at Goodwood, every year in the month of September, we have the possibility to step back into the past and participate in the racing experience.
Having been one of the lucky ones to have raced this track at the Revival in a Lotus 23, I can honestly say that this event has no match, with the exception, perhaps, of the Le Mans Classic in France.  What sets Goodwood apart is that whether a race participant, or a simple spectator, you are drawn into the event, and it becomes "yours", a very personal experience while being part of the bigger picture!… the infinite possibilities that it offers during the three day period are exceptional and well worth the experience !
Some, ( mostly those who have never been, and frankly, I cannot imagine anyone passionate about historic racing who has not! ), say it is a "show". And, although there is no price-money or championship to win,- there is no doubt in my mind, that this is one of historic racing's most competitive and prestigious events. Whether you are a fan of Pre-war Racers or American Muscle Cars, Aviation, Motorcycles, or Car-art and Vintage Collectables of all kinds… there is definitely something for everyone.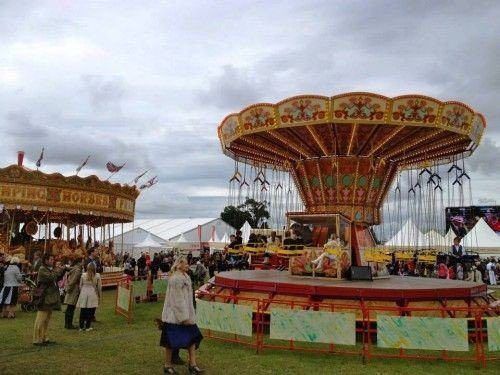 Around and in-between all the regular races on the track ( a whopping 15 of them ), there were staged parades and tributes, air shows, and of-course lots to be seen and done on the Goodwood Revival site,- from picnicking and dancing to the Boogie Woogie sounds of post WWII years, or Hopping and Bopping to the sounds of Rock-a Billie music, going shopping for collectables in the Village and meeting up with car-art artists like Nicolas Cancelier and Paul Chenard, meeting up with friends, old and new, and sharing a glass of wine or "bubbly" at the end of the day. The highlight to all this, is the possibility of seeing and meeting some of the great racers from yesteryear like Sir Stirling Moss, and Jackie Stewart, or meeting the young guns, like Dario Franchetti… and ofcourse, treating yourself to vintage eye-candy in the form of some of the most exceptional historic racing cars to be re-united for 3 full days on the race track itself.
For me, this year was special in many ways…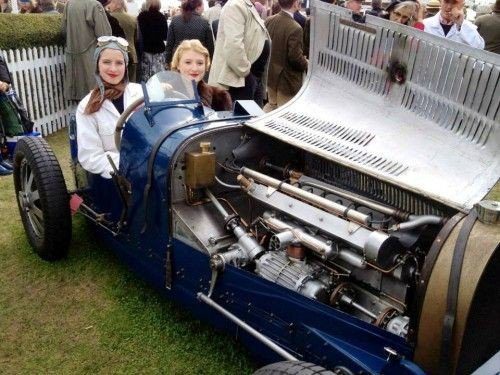 For one, Lea Tudor, my son's girlfriend was "playing the role" at Goodwood as French racecar driver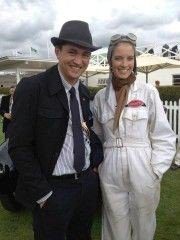 Anne Itier. Itier was among a small handful of female racers in the 1930's and a friend of Helle Nice . Itier was best known for driving 4- cylinder Bugatti Type 37s and participated in rallies, voiturette-class Grand Prix, hill-climb events, and raced at Le Mans five times (a record for a female!!! )  Lea was contracted to represent Anne Itier in the restored and refurbished Bugatti Type 51A, chassis 51142, that Anne had ordered from Bugatti in 1933, and driven in many period races… this car was rebodied as a roadster around 1938, sold in 1964 to Allan Soderstrom and added to his private collection, the car remained unseen for virtually 30 years.  Just recently restored to it's original racing configuration by owner Henrik Schou-Nielsen, who bought the car in roadster form 17 years ago. It was not until 2010, when Bugatti historian Pierre-Yves Laugier dug into the cars history, that it was discovered to be the original Grand Prix racer of Anne Itier.  After having spent many years as a roadcar, the car, now in its original state was brought out for the public at this year's Goodwood event for the first time since its last race, where Anne Itier raced in the 1937 Berne Grand Prix.  It seemed only fit that Lea, being French, represented Anne Itier in this tribute.
Another highlight of my weekend at Goodwood was the Tribute to Jim Clark. For the first time ever, about 40 of the cars that Jim owned, tested or raced, were all re-united on the track at Goodwood. Can it get any better than that? Not in my book!!! This was an amazing sight to see and hear and be part of. What made it even more emotional for me is that I got a go around the track during the parade with Simon Hadfield (top racer and car preparer in his own right ) in one of Jim's  Lotus Elans Series 3 cars…This in its-self made my weekend!!! Needless to say, Lotus ruled during this tribute to Jim. And I could not help but think that, it was, in many ways also a tribute to Colin Chapman and Lotus.  (Lotus Cortina MK1, Lotus-Climax 18 and 21 and 33, Lotus-Ford 29 and 30, 38 and 40, Lotus 26R,  Lotus Elite, Lotus Elan Series 3, Lotus Cosworth 32 and 49, and also the Lotus Pratt & Whitney 56 turbine STP Special,- the car Jim tested in preparation but tragically would never race! ) To my great regret, the Lotus 23 was missing from this list of cars driven by Jim Clark…being a Lotus 23 fan and owner, this would have been the icing on the cake for me !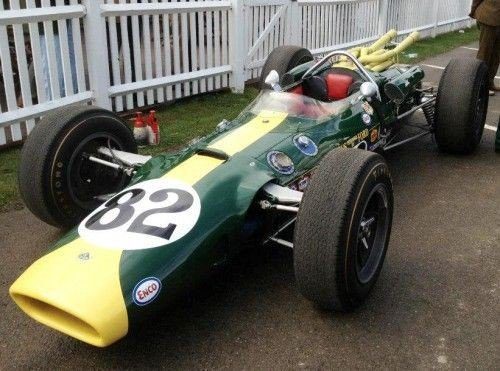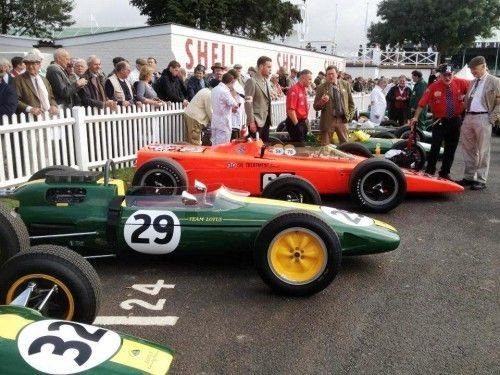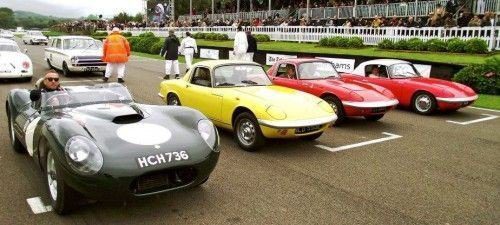 Among the non-Lotus cars present were the DKW 3-6 Sonderklasse in which Jim won his first race in 1956.  The Porsche 356A coupe which Jim raced and won from 1957 to 1959, a Lister-Jaguar in which he raced and won 14 out of the 26 times he raced it ( one of those wins, at Goodwood ), a Tojeiro-Jaguar which he shared with Masten Gregory at Goodwood in 1959,  a Gemini-Ford MK2 in which he made his FJ debut, and a Aston Martin DBR4 which he tested in ( in 1960, Jim signed with Aston, but never raced for them in F1 ), along with the Aston DB4 GT Zagato, a Ford Galaxie 500 driven at Brandshatch in 63, and the ERA B-Type R5B "Remus" of Prince Bira which Jim drove in Rouen  "just for fun"…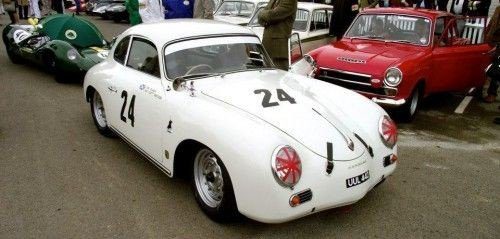 Jim Clark, was and is, in my humble opinion, one of the best and most versatile of all racecar drivers. A natural behind the wheel and a true world-class driver,- not bad I'd say for a shy Scottish farmer, who in his own words, "just loves driving". Clark still holds the all-time lap-record at the Goodwood circuit, along with his friend and rival racer Jackie Stewart, who was present to pay tribute to Jim, driving one of Jim's Lotus cars. It is quite an emotional moment when you see the likes of Stewart, Tony Brooks, Sir Stir, John Surtees, and Dario Franchetti, Romain Dumas, and others I am sure I miss to mention, warming up Jim Clark's cars on the pre-grid…and Lotus mechanic Bob Dance there among them. I am sure Jim and Colin were looking down on this with a bemused eye…and thinking, " what is all the fuss about? ".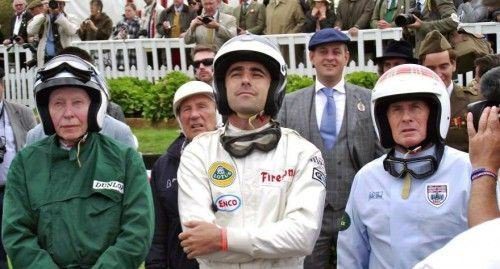 Another highlight for me, was meeting Sally Stokes just before our laps on the Goodwood track for the parade. Sally was invited to have a go around the track in Jim's last road car, a yellow Lotus Elan Series 3 car he used to commute around Europe while living in Paris. Jim Clark , while living in Paris, shared an apartment with G. Crombac and his family and Jim eventually gave the car to Crombac as a gift. Sally Stokes made it really personal and special,- she being Jim's last girlfriend in the day. A charming and delightful lady. And just seeing her participating in the tribute made it all even more special. After the parade she took the time to speak of Jim Clark with me and re-enforced my thoughts on what an exceptional human being Jim Clark truly was. Bless him !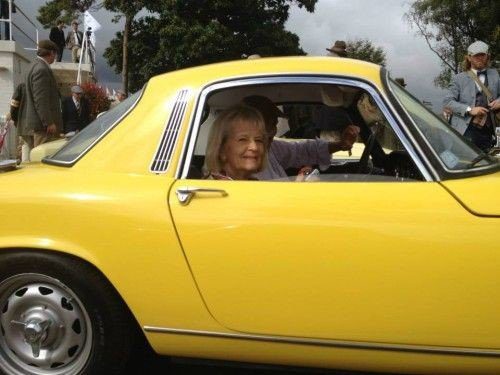 And now about the racing… I unfortunately did not get to see all the races. It is difficult to be everywhere all the time,- even though I sure did try!  I decided to concentrate on the races in which the cars I love best and the people I know were involved.  The 3 most exciting races for my stay at Goodwood were the St. Mary's Trophy ( a two part race of 25 minutes each, for production saloon cars of a type that raced between 1960 and 1966), the Whitsun Trophy (a 45 minute, two driver race, for the Ford GT40s and related cars of a type that raced between 1964 and 1966), and the one everyone is willing to brave the rain and wet conditions to watch: the Royal Automobile Club TT Celebration ( a one hour, two driver race for closed-cockpit GT cars in the spirit of the RAC TT races from 1960-1964 ).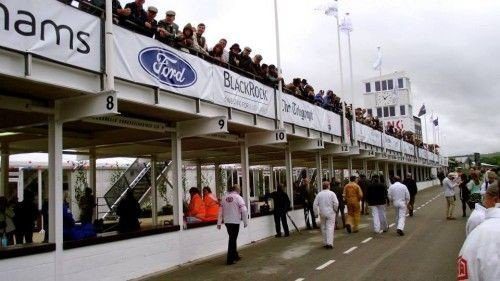 You can almost feel the electricity in the air when the St. Mary's race winds up for the start. It begins on the pre-grid and then as the cars go out on the warm up lap for placement on the grid…everyone makes a scramble for the pit-lane stand.  This is the race where David and Goliath battle it out…Lotus Cortinas and Alfa GTAs, Mini Coopers and Abarths against Ford Galaxies, and then some! Some major straight-on head-to-head dicing around the track always happens in this race. And again, part of the excitement is seeing professional and celebrity racers out there racing against the guys who race these saloon cars on a regular basis in some of the UK and European series…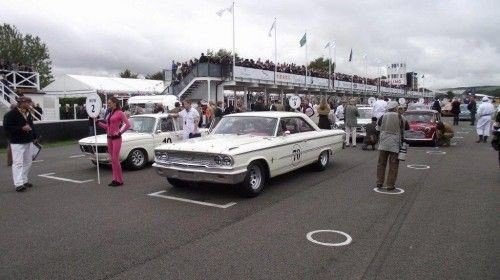 I don't know anywhere else, but at Goodwood, where you can see 9 time Le Mans winner Tom Kristensen racing a Ford Galaxie 500, and matching odds against Jochen Maas also driving a Galaxie, with Frank Stipler (Audi driver par excellence) giving Tom and Jochen a run for their money in a Alfa GTA. Although these cars did seem to dominate the race, the Minis gave it a go go go on their own, providing us with a race with-in the race. Special mention here for my favorite Mini Team of Swiftune  (the Italian Job team on the pits )… and another special mention for a great Mini racer Andy Harrison who took his car ( powered by Swiftune ) to a worthy 3rdin class !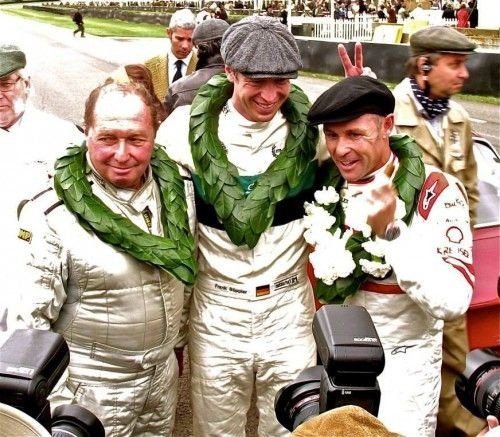 Big Toys for Big Boys and packing 40 inches were the GT40s. The Whitsun Trophy brought out the Beasts celebrating the 50th anniversary of the GT40. 45 minutes of pure Ford power! In this outstanding showcase race, all versions of the GT40 were eligible and did include a few replicas which were built by Gelscoe. In this mix of  were three MKII's and a very rare MKIV where V8 engines ruled in the day.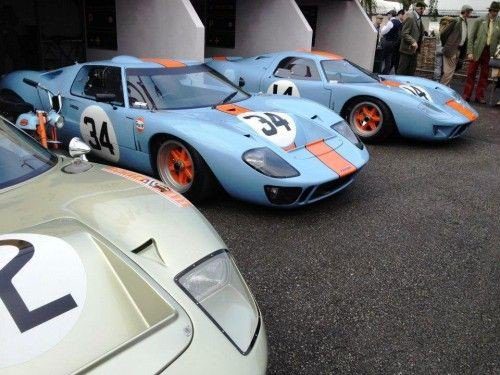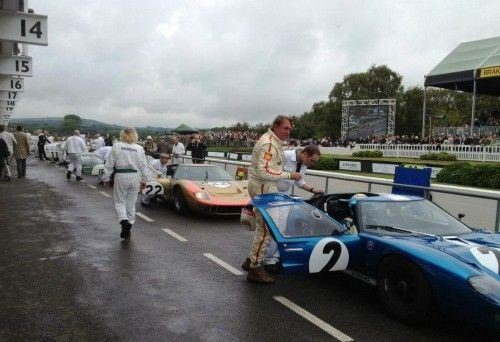 Imagine the emotion of seeing 27 of these fabulous cars on the track at the same time, and the rumble of their engines as they literally flew by on the Goodwood straight-away! In the paddocks, the Earl of March and his Goodwood team created a Le Mans ambiance to showcase these exceptional cars,- it was a thrill to get an up-close and personal look at these cars, having seen most of them only in books and photography situations, it was a privilege to be able to document them for myself.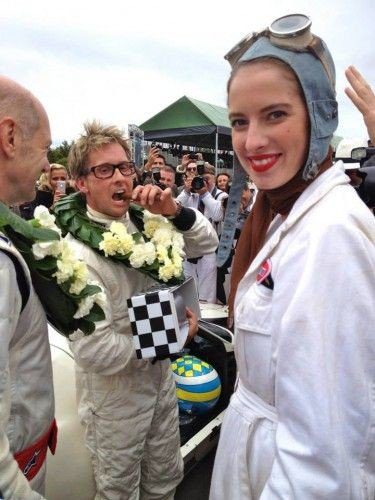 The circuit of Goodwood played an important role in the GT40's development during the 1960's… some of the cars participating in static as-well-as during the race were the 1966 Le Mans winning chassis P/1046, the Alan Mann racing developed AMGT-2 car raced in the day by Bruce McLaren and Chris Amon which won in 1966, a John Wyer Automotive team car in the blue and orange GULF colors. The race ended with Adrian Newey and Kenny Brack in the ex-ESSEX wire GT40, one of the small block cars, taking the lead early on and bringing their car to the finish in first place. If any of you want to see what this car was like on the track, have a look and see online on You Tube, type in "Goodwood Revival 2013: Kenny Brack in the wild GT40", you believe me,- it is more than worth the Watch !!! Second place was taken by Shaun Lynn the owner/driver of the GT40 #13 driving with Emanuele Pirro, 14 seconds behind the Newey/Brack car. Martin Stretton, a regular major player in historic racing and racecar preparation, driving the GT40 #6 with Diogo Ferrao,  finished third.  Just a personal HOOT HOOT for the Joachim Folch/Simon Hadfield car finishing 9th and a special mention to the French contingent…Fabien Sarrailh and Henri Pescarolo driving a beautiful light green GT40 from 1965. Fabien, son of Robert Sarrailh , drove with Henri in this 45 minute race- finishing seventeenth. Always great to see Henri with his unmistakenable green helmet at any race! Also present at Goodwood, for the first time, was Yves Courage.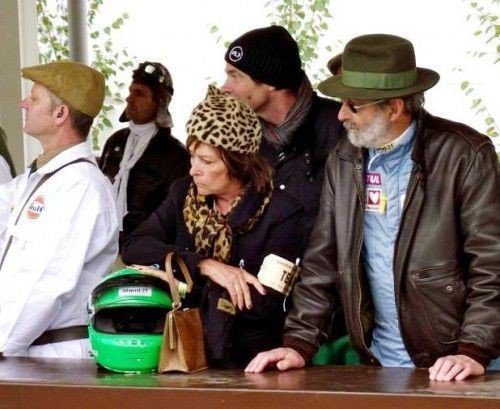 I have saved the cherry on the cake for last… Wow, WOW, WOWZA, was this exciting!? You bet your pants it was!  Starting on the dry, well, humid track,- Cobras, Ferraris, Jag E-Types and Aston Martins…all reved-up for one blockbuster, big boy toy race. Expecting this to be a Cobra win, or another Jag in the lead, the start came as no surprise to me, with the Bryant Cobra sitting on pole. Bryant back and on the attack, after three consecutive years of mishaps on the track. And, followed by a Lister Jag Le Mans Coupe and a Ferrari 250 GTO with Jean Alessi behind the wheel. Expecting Bryant to lead, David Hart opened up the festivities followed closely by Gary Pearson, a TT race favorite having won last years TT, a close fourth… then came the RAIN…and the race was in the "wet". And that changed EVERYTHING.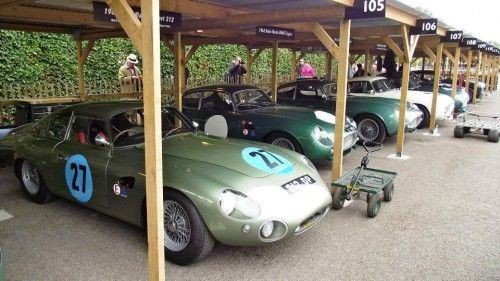 While Cobras, Jags, and Ferraris were battling the wet and trying to keep their cars on the track,- Simon Hadfield behind the wheel of the Aston Martin Project 212 was on the move and coming on strong! Wolfgang Friedrich, owner of the AM project 212 had handed over the wheel to Simon before the rain deluge in a respectable tenth place. In my "humble" opinion,- THIS was one of the best and greatest drives in Goodwood history ! Steadily and brilliantly, Simon worked his way up from tenth to the lead.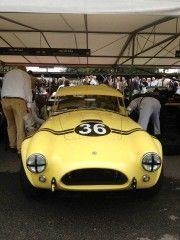 And with each place, the crowd held their breath…this was epic driving in the wet, with Simon sometimes 5 seconds faster than anyone else on the track. With 2 minutes left, Simon, apparently oblivious to the appaling wet conditions on the track, brought the Aston to victory in first place, with the Lister Jaguar Coupe driven by Chris Harris and Anthony Reid, second, and the father/son team of Bryant third aboard their pole-position Cobra. It was a particuliarly emotional moment for Simon, as he has participated in all of the 16 Goodwood events since 1998, either as team-runner or driver, with 2013 marking his first personal win at the Goodwood track. Not without detractors, but well-appreciated in the historic racing community, even rival teams cheered him down the pit-lane with each passage. This was not only a personal achievement for Simon Hadfield, he and Wolfgang Friedrich ( driver/owner of the car), it was racing history in the making at Goodwood. This was the first win for an Aston Martin in the TT Race at Goodwood, which also coincided with the celebration of Aston's centenary year. Having known Simon for many years, I was very happy to have been there to witness this racing achievement. He practically has taught me how to drive and race… Bravo !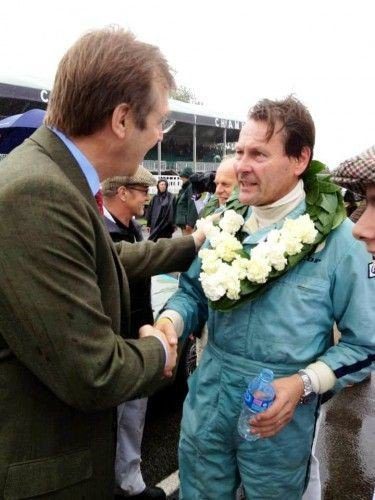 If you have never been to Goodwood… I suggest you put it on your bucket list… for any Petrol-head , this event is a must !
 * : Pour visualiser l'album photos : clic gauche sur image.

Carol QUINIOU
Photos :
Carol Quiniou
Jean-Louis Richard